Press Release – 2022 Stakeholder's Event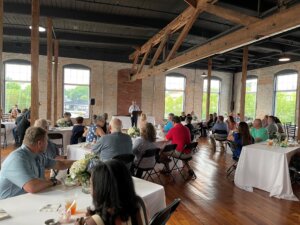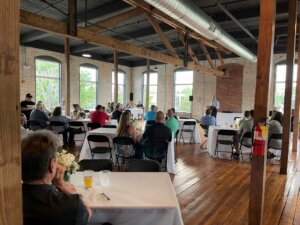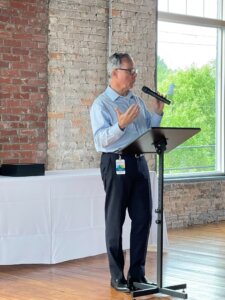 FOR IMMEDIATE RELEASE:
CONTACT:
Kara Brown
kara@lincolneda.org
Lincoln Economic Development Association
502 East Main Street
Lincolnton, NC 28092
Phone: 704-732-1511 ext. 3
www.lincolneda.org
May 20, 2022, Lincoln County, NC –
Lincoln Economic Development Association (LEDA) celebrated its investors and partner organizations Thursday night, May 19th, at Bricktree Brewing in downtown Lincolnton at its annual Stakeholder's Event. The celebration took advantage of the gathering to honor LEDA's supporters and recognize sixteen businesses located in the City of Lincolnton who received grants from Duke Energy as part of a Hometown Revitalization Grant Program.
Created by the North Carolina Duke Energy Foundation, the grant is purposed to support small towns and assist small business recovery efforts across the state. As a special guest and part of the evening's events, Stephen De May, president of Duke Energy North Carolina, made comments of recognition and presented certificates to grant recipients who, in total, received $25,000.
"North Carolina's small businesses have shown incredible innovation and resiliency over the past few years," said Stephen De May, Duke Energy's North Carolina president. "Lincolnton is a perfect example of a community that came together to sustain their vibrant downtown in the wake of the unprecedented challenges brought on by the pandemic. We are pleased that our Hometown Revitalization Grant Program was able to assist Lincolnton small businesses in their recovery efforts and position them for a prosperous future."
Though it may appear as if economic development efforts in Lincolnton and throughout Lincoln County occur naturally, it results from the leadership, assistance, and partnerships of many. LEDA didn't allow the night to end without acknowledging and thanking those private members and local government leaders whose support fund all efforts and programming of the organization.
Chair of Lincoln Economic Development Association board of directors, Kim Phillips, opened the evening with remarks of gratitude to those present. "Lincoln County is fortunate to be home to a diverse and thriving group of industries and businesses. We give thanks for the economic growth and flourishing employment opportunities we enjoy and the industry leaders who make that possible. However, we also recognize none of this would be likely without those who support the work of Lincoln Economic Development Association and are committed to its mission."
Recipients of Duke Energy's Hometown Revitalization Grant are as follows: Fausto Coffee, Goodwood Pizzeria & Bakery, Untapped Territory, Benny's Boutique, BrickTree Brewing Co., CBD East Main, CM Fine Arts Studio, Drum's Florist, Good Neighbor Shop, House of Awards, North State Books, Southern Charm Winery, The City Cellar, True Roots Acupuncture, UMAR Art on Main, Zhay's Bar and Grille.
###
About LEDA
Lincoln Economic Development Association is a private, 501c(3) non-profit corporation charged with facilitating industrial and office development in Lincolnton and Lincoln County. LEDA's mission is to foster an economic environment that promotes an enhancement of the standard of living by creating more and better jobs for the citizens of Lincolnton and Lincoln County and an increased and diversified tax base to provide needed community services. The organization's goals include retention and expansion of existing business; attraction of diversified base industries, improvement of the overall business climate within Lincolnton and Lincoln County and the growth of stage two entrepreneurial companies.