Duke Energy Hometown Revitalization Grant Awarded to 16 Small Businesses in Downtown Lincolnton by LEDA 2022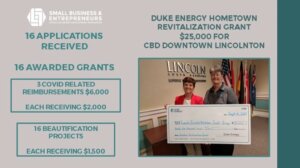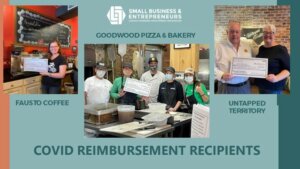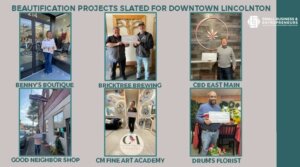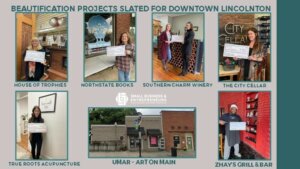 A Duke Energy Hometown Revitalization Grant for $25,000 was awarded to Lincoln Economic Development Association a 501c3 nonprofit to administer to the specified area of Downtown Lincolnton's Small Businesses in September of 2021.  Sixteen grant applicants were selected and awarded in December of 2021 with checks distributed in January 2022.  Three businesses were awarded $2000 each for COVID related reimbursements where they used their own funds to pivot their businesses to remain open safely. Thirteen of the grants were awarded in the amount of $1500 to do beautification projects to spruce up and make an immediate impact in the downtown area. Project are slated to be completed and Final Report submitted by May 31st, 2022.
COVID Reimbursement Recipients: Fausto Coffee, Goodwood Pizza & Bakery, and Untapped Territory.
Beautification Project Recipients: Benny's Boutique, BrickTree Brewing, CBD East Main, Good Neighbor Shop, CM Fine Art Academy, Drum's Florist, House of Trophies, North State Books, Southern Charm Winery, The City Cellar, True Roots Acupuncture, UMAR -Art on Main, and Zhay's Grill & Bar.
Duke Energy Hometown Revitalization Grants – Presented by Robin Nicholson, District Manager
LEDA ~ Duke Energy Hometown Revitalization Grants Administrator – Rhonda Hunter, Small Business & Entrepreneur Specialist
Contact Us • 704-732-1511 • Follow Us