Downtown Lincolnton Chosen for $25,000 Grant – Check Presentation by Duke Energy 10-1-2021


Wayne Howard, Staff Writer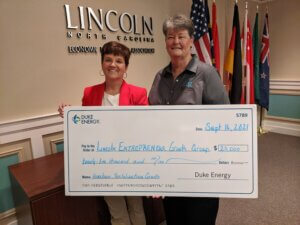 Rhonda Hunter, Small Business & Entrepreneur Specialist with the Lincoln Economic Development Association (LEDA) submitted a Grant Proposal to Duke Energy Foundation and LEDA's Lincoln Entrepreneur Growth Group program was selected to receive one of thirty granted across the state of NC.  The following is the official press release from Duke Energy:
"The Duke Energy Hometown Revitalization Grant program will provide relief to those downtown small businesses who have worked diligently through the COVID pandemic.  They have continued the hard road of keeping their businesses open while making the necessary changes and transitions as mandated.  They worked tirelessly to comply with many either depleting their personal savings or retirement funds just to stay open.  For others this may just be the opportunity to make other improvements to ensure their continued success. This will be long remembered by these small businesses, and we are excited to administer this outstanding program for them."
In all, the Duke Energy Foundation today distributed $750,000 in grants to help local businesses across North Carolina adapt to the unprecedented challenges caused by the pandemic.
The total represents a 50% increase over the $500,000 in funding announced in April due to the breadth and quality of the funding applications. As a result, the Hometown Revitalization grant program will now support 30 communities throughout the state rather than the original 20 planned at the program's inception.
"After our success in supporting the Downtown Raleigh Alliance, which was the model for this program, we knew that a series of targeted grants could do wonders to help North Carolina businesses and storefronts recover," said Stephen De May, Duke Energy's North Carolina president. "We were astounded by the number and quality of the applications, so we decided to increase the foundation's commitment and help even more downtown communities bounce back."
Each of the chosen communities was awarded $25,000 through a partnership with local 501(c)(3)-administering nonprofits. The administering entity will establish a small-business support microgrant program to deploy the funding within their local community. Microgrants may range from $500 to $2,500 per individual business.
Hunter said she has already been receiving inquiries about the program but is awaiting particulars.  When those are established, interested businesses in Lincolnton's central business district (the area listed in Hunter's grant application) will be invited to apply for up to $2500.  "It could be ten getting $2500 each (the largest amount) or more getting smaller amounts (the minimum is $500)."
Contact Us • 704-732-1511 • Follow Us